Offers valid till midnight 24th December 2015 (lock in lowest price) and bonuses limited to the first 10 orders.
systemHUB gives business owners:
Improved efficiency
Stop showing and correcting your staff on how to complete tasks. Document your smart operating procedures (SOPs) once, have your team follow them and skyrocket your time efficiency and profitability.
More Freedom
Building a business on the foundation of well documented systems makes it consistent, profitable and scalable. Best of all, it allows the day-to-day operations to run without you, giving you ultimate freedom.
Increased Value
Well documented processes and procedures detailing your businesses' "way" are the most important asset within your businesses – just look at McDonald's, Subway and Starbucks. It's time to start building assets!
Log in online anytime, anywhere.
Quickly find your systems & processes when you need them. Your standard operating procedures (SOPs) are your most important asset – systemHUB makes capturing and improving them simple, smart and fun.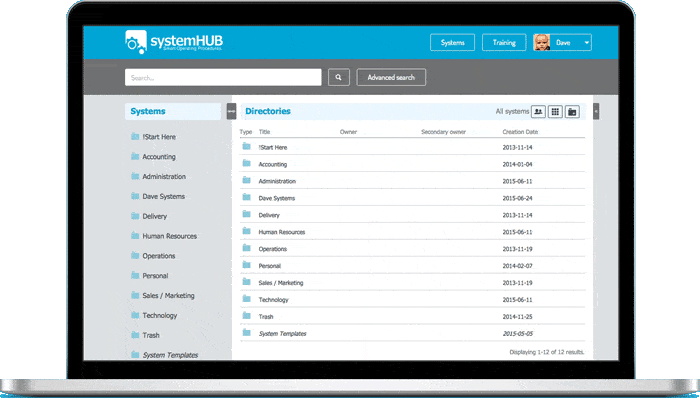 Unique features that will make life easier:
Intuitive Design
systemHUB makes systems creation quick, easy and fun because systems should be part of everyone's daily business life. Designed with one purpose in mind, systemHUB is an elegant solution.
Template Library
Don't know where to start? Copy, paste and customise our best systems and processes – includes everything from hiring staff to on boarding clients to marketing strategies.
Sharing & Permissions
Whether its your personal assistant, full time team member or contractor – everyone is different. Custom permissions give you full control over who can see, edit and delete systems.
Searchable
Search is at the heart of systemHUB with tags and advanced search features to help you and your team find the right system when they need it. The system you need is only a click away.
Email Templates
Easily create email templates for client correspondence. Saves time when responding to clients and have your staff communicate using the right words and tone to match your business – every time.
Team Training - 70+ hrs
Training your team is one of the best ways for you, as the business owner, to step out of the business. systemHUB makes it easy with 70+ hours of industry leading training on outsourcing, video marketing, SEO and more.
Offer ended.
Founding memberships available for a limited time:
Annual Founder's Membership
systemHUB software (12 months unlimited access)

systemHUB live 2015 event recordings

Access to all of David's previous workshops

1 x system template per month

1 x ticket/recordings to systemHUB live 2016

Bonus: 1 x coaching session with David (limited to first 10 orders)
Platinum Membership
Everything in the Founder's membership +

Monthly one-on-one coaching with David Jenyns

1 x "done for you" custom system per month (by our team)
Note: All prices listed are billed in AUD and GST added where applicable. Founding member launch prices expire midnight 24th December 2015 and will not be repeated. Prices remain grandfathered in at the lowest rate for the life of your membership.
Join the systemHUB community.