Your business systems, processes and SOPs… Organised.
Run your business like a finely oiled machine.
Your Systems. Organised.
Secure, cloud based software, so simple, anyone can use it.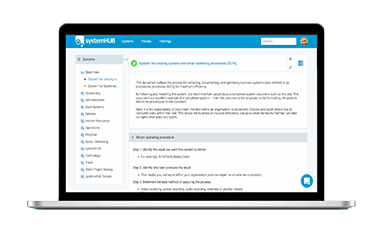 Features to make life easier:
Intuitive Design
systemHUB makes systems creation quick, easy and fun because systems should be part of everyone's daily business life.
Template Library
Don't know where to start? Copy, paste and customise our best systems and processes.
Sharing & Permissions
Custom permissions give you full control over who can see, edit and delete systems.
Secure
Feel confident knowing we keep your data securing using the strongest SSL encryption on the market.
Email Templates
Easily create 'cut and paste' email templates for client correspondence. Saves time and increases consistency.
Searchable
Search is at the heart of systemHUB with tags and advanced search features to help your team find the right system when they need it.
PDF manuals
Build custom PDF operations manuals – perfect if you have an offline business or if you just like the comfort of having another backup.
Roles & Individuals
Move beyond assigning systems/policies to only individuals – assign systems to roles and scale your business avoiding single person dependency.
Team Training
70+ hours of industry leading training on courses on outsourcing, video marketing, SEO and more.
Not sure where to get started?
The first step to documenting your processes and procedures is to create your "system for creating systems".