Pricing & Plans
Flat rate pricing that gives you full features – simply decide between monthly or annual.
Monthly
Includes up to 40 users

Quickstart system templates

Business System Summit – Volume 1 Templates

SYSTEMology® Masterclass

Concierge service
Annual
Includes up to 40 users

Quickstart system templates

SYSTEMology® Masterclass
*Prices list in USD. Select preferred billing currency on checkout. Additional GST charged where applicable.
Custom Options
Can't find a plan that suits you? systemHUB® scales to any level. To discuss your needs, book a call with one of our team today – click here.
Not For Profits
Run a not for profit? systemHUB is here to support you. Contact our team to discuss our options – click here.
Frequently Asked Questions
Why do systemHUB clients choose systemHUB?
systemHUB is unlike any other platform on the market that extends well beyond world class SOP management software. You'll gain access to templates, training, expert guidance and a team that's truely dedicated to your success.
With hundreds of reviews and case studies, we find our clients choose us because our platform is intuitive, great value and simply unmatched.
What system and standard operating procedure (SOP) templates are included in your account?
Gain immediate access to 40+ best practice SOPs, processes and checklists . These templates can be duplicated and customised to suit your business – click here for more details.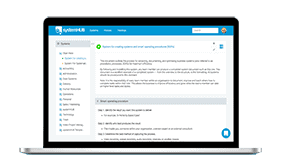 What's included in the concierge service?
Our concierge service will get you and your team up and running as quickly as possible. We'll create the basic departments and roles, load your company logo, and add the basic system templates you can use in your account.
Why don't we bill on a per user basis?
We know what it's like when platforms charge on a per user basis, everyone begins sharing logins as you try to save a few dollars. While this might be fine for a marketing platform, it doesn't work with an SOP management system. One of the keys to building a systems based culture is individual team member participation and accountability.
Therefore, we have found by simply making pricing tier based, every team member gets their own login and we increase the success rates of our clients. This also avoids any nasty surprises as your organisation grows.
Would you like a 30-day FREE trial account?
To activate your 30-day FREE trial, simply complete the quiz – get started here.
Can't I just use Dropbox, Google Drive, or Sharepoint for my systems and processes?
What's the difference between project management vs SOP documentation management?
Do you provide a "Done For You" documentation service?
The short answer is "yes". For clients looking to have our team do all the documentation for you – check out our SYSTEMology service here.
This package include everything from identifying the mission critical systems, to conducting one-on-one interview sessions, all the way through to our team documenting and organising your systems and processes – find out more here.
Create time, reduce errors & scale your profits with systemHUB.