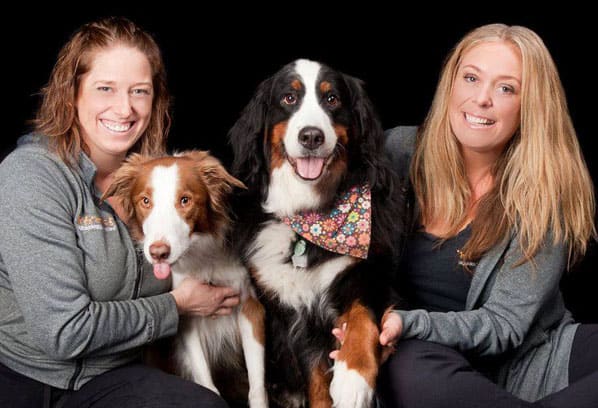 Meet Jeanette — she's been a loyal systemHUB user for several years…
She founded the multi-award-winning DiggiddyDoggyDaycare® Centre in 2006, and from the very beginning, she knew she wanted a business she could step away from (and one day sell for top dollar).
There Was Just One Problem:
Before She Found Us, Her Systems Were All Over The Place, And She Was Working 24/7.
Sound familiar?
Jeanette dreamed of being able to make memories with her family and friends, with a business thriving in the background.
But her reality was 60+ hours a week trying to put out fires, midnight worries, and completely swearing off me-time.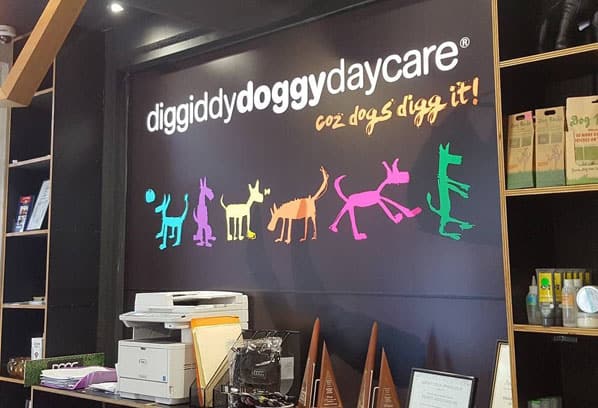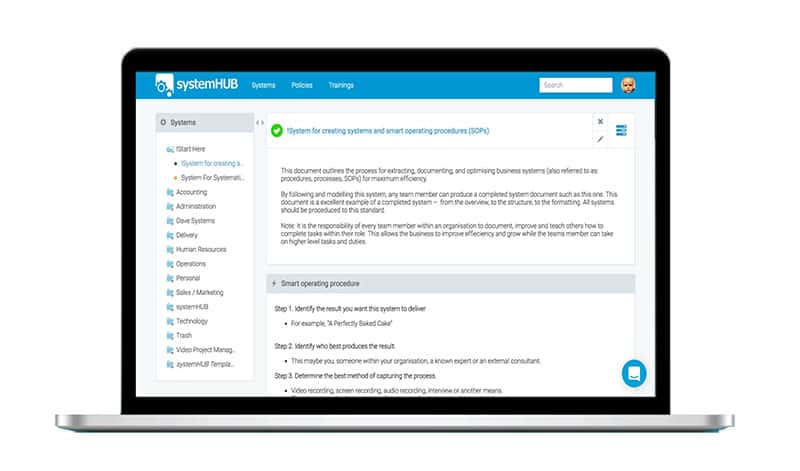 systemHUB Saved Jeanette & Her Team Tons Of Headaches By Giving Them A Convenient Home For All Their Processes. But…
Here's what Jeanette and so many business owners miss out on when they invest in systems management software:
You also need to know how to get your team use the systems!
Documenting and storing your systems in systemHUB is not enough. You need to get your team onboard, getting them to actually use and improve your systems.
The good news is, there's a trick to this (which I'll share with you in just a moment)!
This Is Exactly What I Showed Jeanette…
It's how she was able to stop wasting time double-tracking and reviewing errors, and start working on what she WANTED to do.
At one point, she was even able to stop going into the office completely.
All while her team felt empowered to do more, and do it better, leading to increased profits across the board.
Her business eventually reached the point where she could sell for a great profit (something she'd always wanted to do, but couldn't without the right systems in place).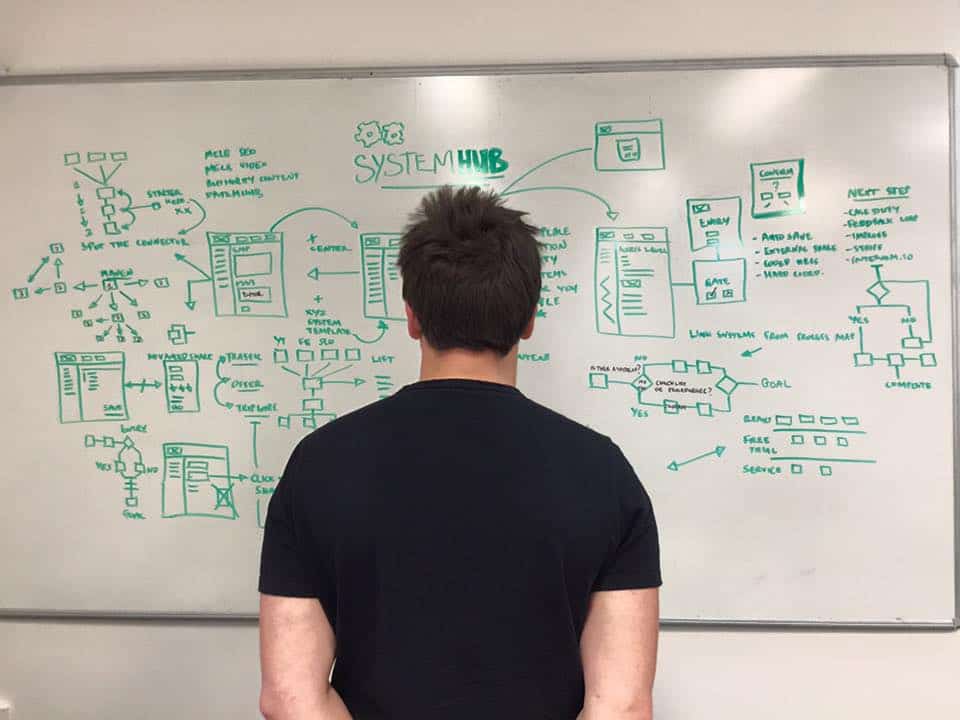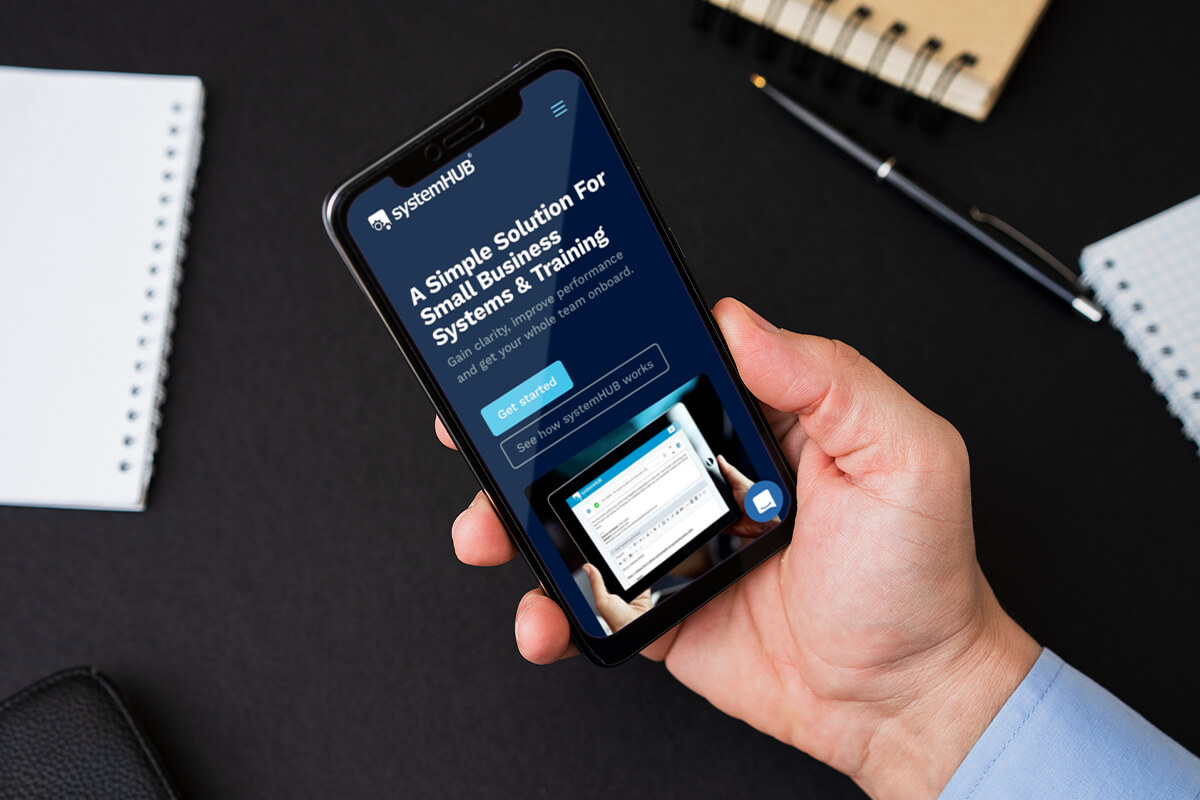 This is When She Finally Ended Her systemHUB Subscription…
Jeanette sold her business to a large listed company with their own custom-built enterprise systems management software.
But it was thanks to the Business Systems Accelerator (BSA) that she was able to create the unbreakable, lasting systems and team culture giving her the opportunity to exit.
Best of all, it was a true win-win because the company that acquired her found it far easier to purchase her proven systems, rather than build new ones (a huge deciding factor in the final acquisition).
Now, maybe your goal isn't to sell, but…
I'm Willing To Bet You'd Like Your Evenings & Weekends Back!
I'll show you exactly what we created to help Jeanette (and hundreds of business owners like her) win back their freedom in the shortest amount of time possible.
But before I dive into all that, let me introduce myself.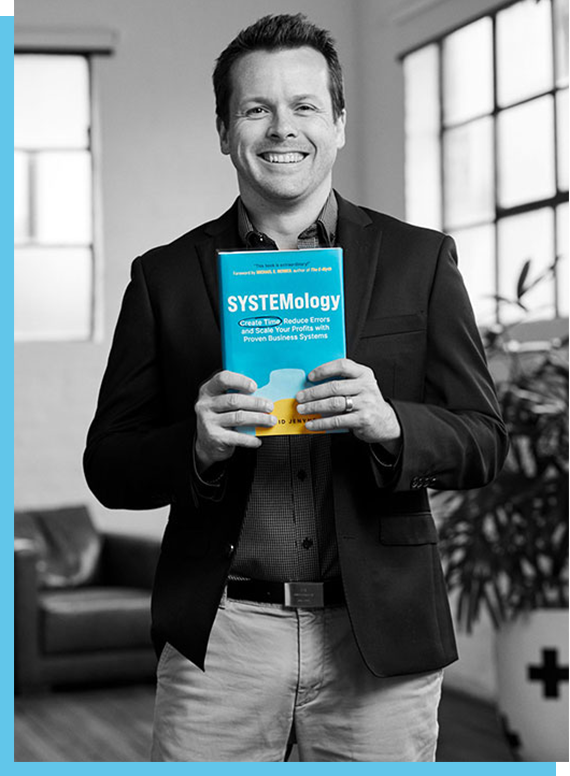 Hi, my name is David Jenyns, former bottleneck and bestselling author of SYSTEMology.
I used to be exactly like so many ambitious, but "time-poor" business owners.
Stuck in the day-to-day and trapped in a life I built around my business, instead of the other way around.
I was this close to being the "too-busy" dad who missed his kids' childhood because he was working 60+ hours a week.
Eventually, after years of trial and error, I discovered a better way to systemize myself out of my business…
One that was simple, repeatable, and best of all, worked for any business, regardless of industry or growth stage.
Endorsed by the man who coined, "working ON your business, not in it."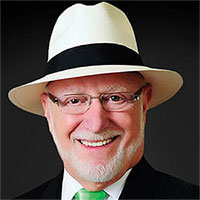 I invented "working ON your business, instead of IN it" almost 43 years ago with my very first E-Myth Book. And here I am telling you that David Jenyns has not only DONE it, but he can help teach you exactly how to do it, too!

Michael E. Gerber
Author of the E-Myth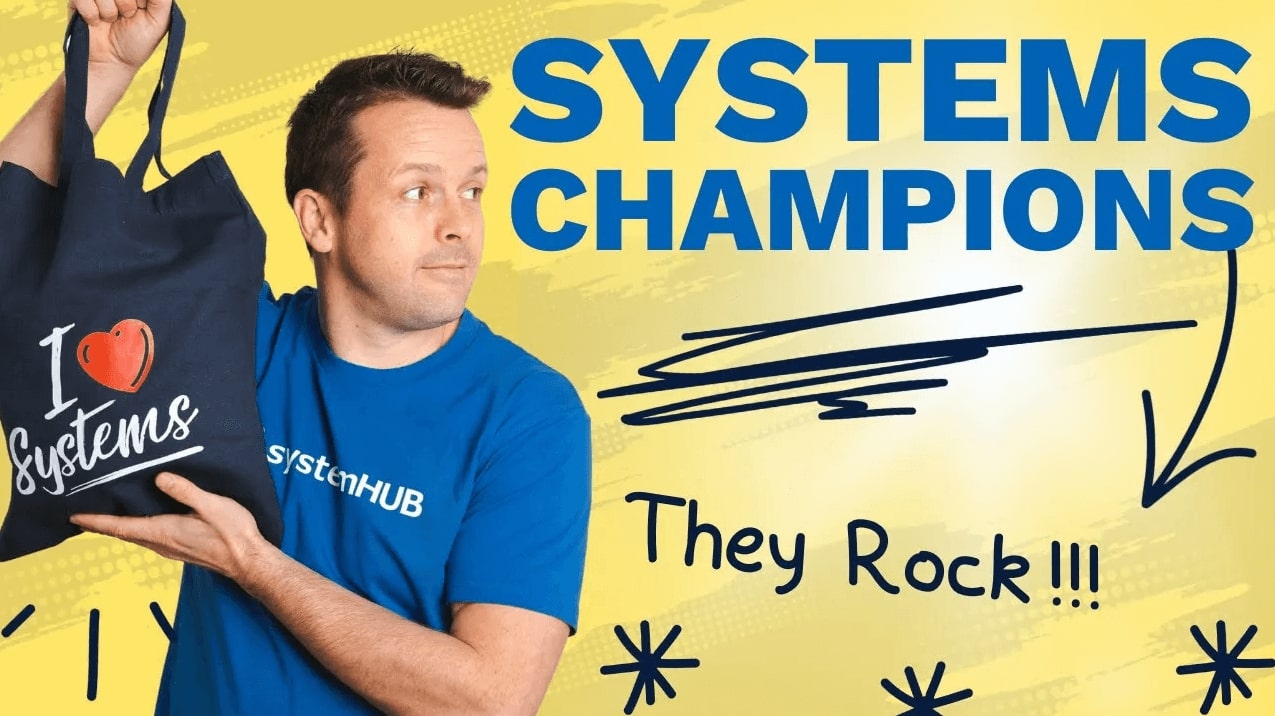 There's a Difference Between Those Who Succeed & Those Who Don't…
After years of seeing business owners who smash it out of the park with systemization (like Jeanette) and those who struggle — I've discovered where almost everyone goes wrong.
Most people try to do this on their own.
They try to document their processes and deploy their systems when really…
You need someone you can trust to develop and streamline your systems for you, to integrate them into the way things are done at your company, and ensure the team is on board.
I call this role the 'Systems Champion.'
Truth Is, Systemizing a Business Takes More Than Just Software…
To completely remove yourself from the day-to-day of your business, you need to know how to hire and train your Systems Champion, and most importantly, the kind of role you need to embody as the business owner.
One that gives you the freedom to run your business the way you've always wanted to.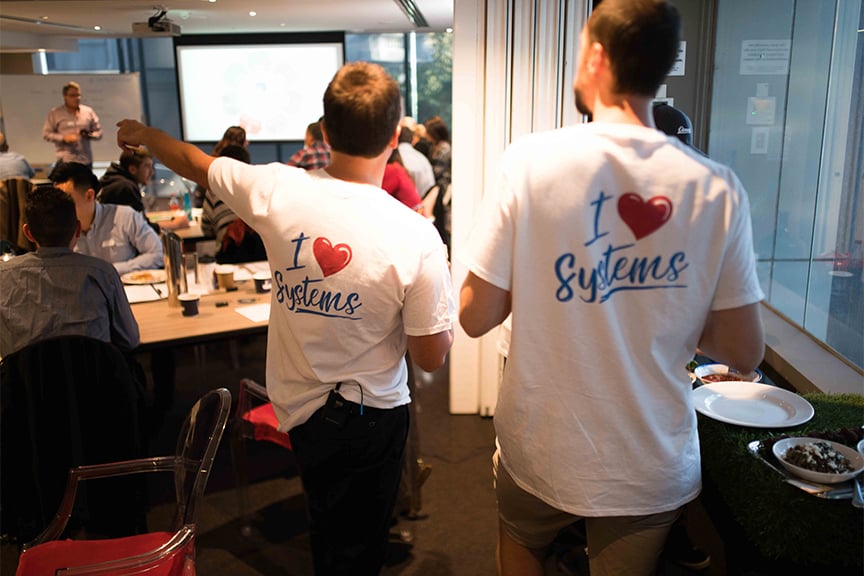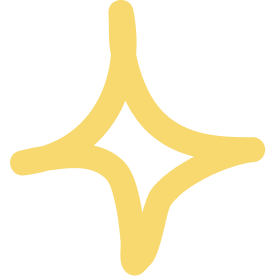 The Business Systems Accelerator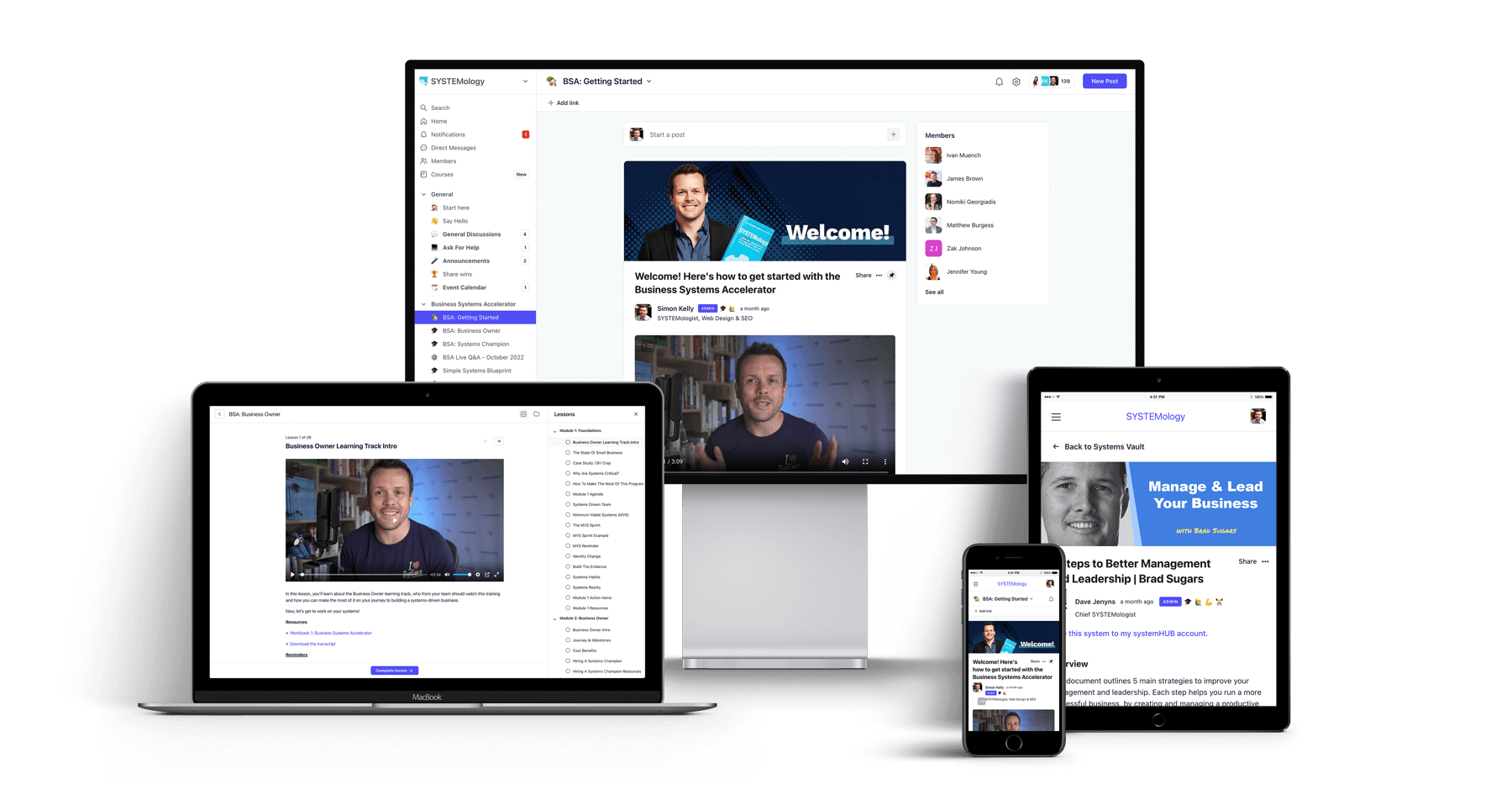 Get the world's best SOP management software combined with the world's only training and support program for Systems Champions. That's everything you need to build a thriving systems-driven culture in the shortest time possible.
Where other platforms focus only on the software (or worse, only the documentation process) this program gives you the methodology to make systemization work for YOUR business.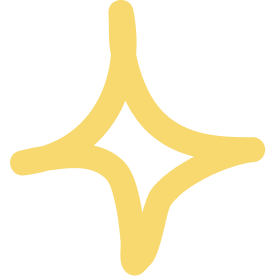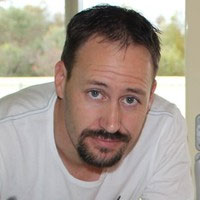 "We now have a culture of systems thinking and development in place."
"I've got our systems champion, Chelsea, figuring out the areas that need systemizing, contacting the knowledgeable workers, and pushing for that to happen. The more we build internal processes, the easier it will be just to say, 'Have you looked in there? And if there's not [that particular procedure in place yet], then get back to me.'
If you want to systemize, the system used by SYSTEMology and the Business Systems Accelerator program is awesome. It gives you some runs on the board and gets you some experience of doing it so that you can hit the ground running."

Simon Goodwin
Agile Logistics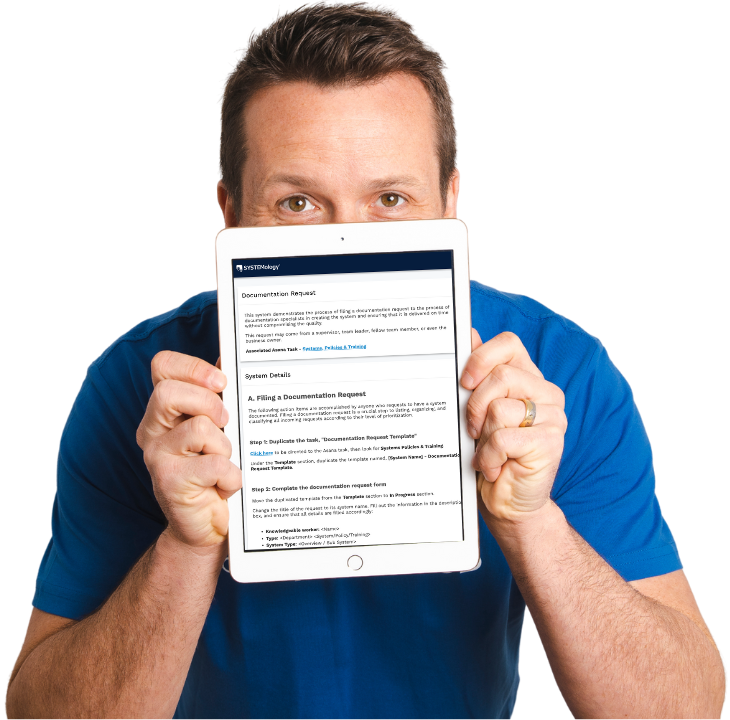 I'll Show You Exactly How To…
Create the money-making systems first so your business can generate consistent cash without you
Identify the best team member to be your Systems Champion, who'll take over most of the implementation work for you
Follow the seven stages of SYSTEMology® so you can effortlessly build the right systems to save you hours of time while replicating the same standard of work you're known for
Develop a systems-driven culture in your business, so you can comfortably leave the day-to-day operations to your team, and finally focus on the work you fell in love with when you started this business
You and your Systems Champion will also be added to our private community for accountability and live feedback, so you know you're doing it right, and so you can get hands-on help throughout the entire process.
Don't have a Systems Champion Yet? We'll Show You How To Hire One ASAP
We'll give you a simple, step-by-step process for scanning your team and plucking out the right person for the job.
And if there's nobody right for the role?
You can swipe our hiring process just like Alison from Vocal Manoeuvres did: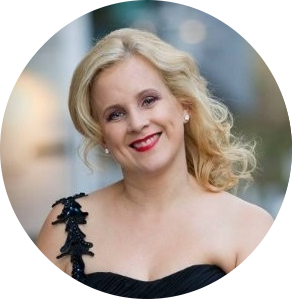 "Snagged the most incredible Systems Champion"
"I thought – how am I going to do this? How am i going to have time for this? But then you gave me the plug-and-play ad for your Systems Champion and position description. I swiped it completely, and it snagged the most incredible Systems Champion. And that was a game changer."

Alison Rogers
Vocal Manoeuvres
In Fact, Here's What Else You Get With Your Business Systems Accelerator Subscription:
12-Month systemHUB SOP Software Access
It goes without saying, but you'll have full year-round access to all of systemHUB's features, including
Unlimited space for all your SOPs and files, whether it's videos, PDFs, Docs, or images — no need to host them anywhere else
Permissions control and sharing options for easy collaboration both internally and externally
A home for everything your business needs to run smoothly, from onboarding trainings to email templates for communications & customer service, so you can save hours of time looking for the right systems
Progress tracking for team member training, so you're never lost when it comes to the onboarding process
And everything else systemHUB has to offer.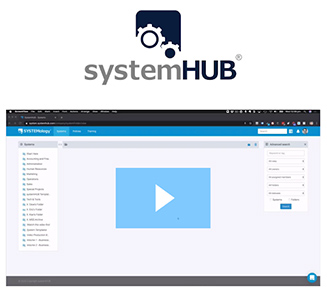 This is for you, the business owner, so you can get in the right mindset and have enough of an understanding of the process so you can stay out of your own way and empower your team to run the show without you.
You'll find out:
Exactly what your role is as the business owner, and why this makes the difference between smooth scaling and being stuck as the bottleneck forever
How to extract the way you do things from your head, and turn it into easy-to-understand systems for your team — more profits and more time, without sacrificing the quality you're known for
And ultimately, how to get out of the way, and empower your team to lead the way!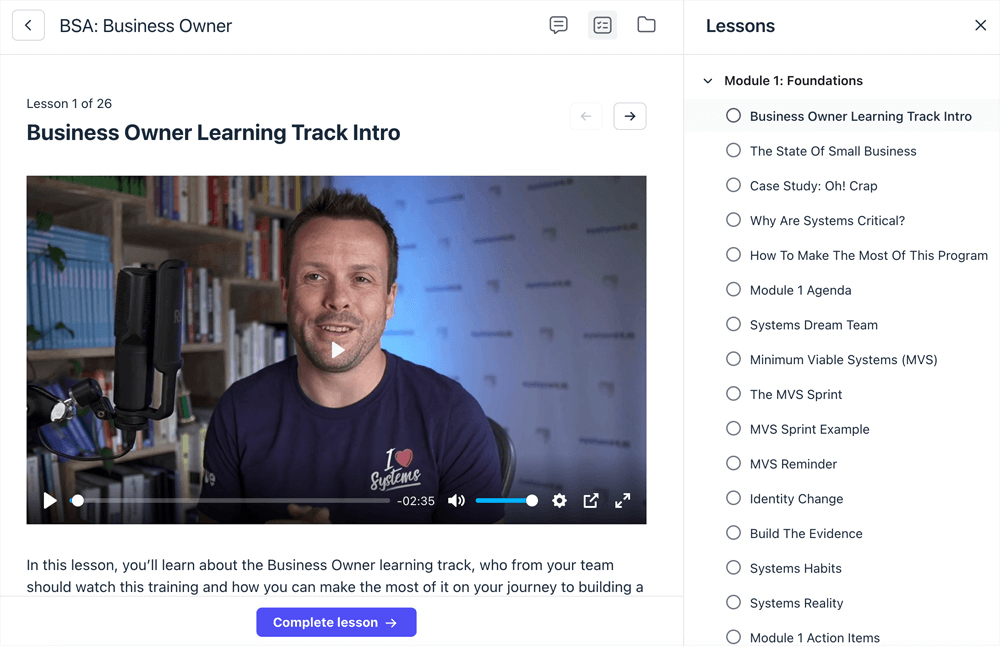 Systems Champion Training
This crash course saves you the hard work of bringing your Systems Champion up to speed, by being the only training they'll need to get you results.
They'll walk away knowing:
The SYSTEMology® process like the back of their hand, allowing them to build time-saving systems for your team, take on more capacity, and help you scale so much faster
Exactly how to get the rest of your team on board, so they're less resistant, and more likely to follow your systems — in fact, with your Systems Champion in the trenches with your team, they're perfectly positioned to help you with this!
And everything else they need to execute on your behalf!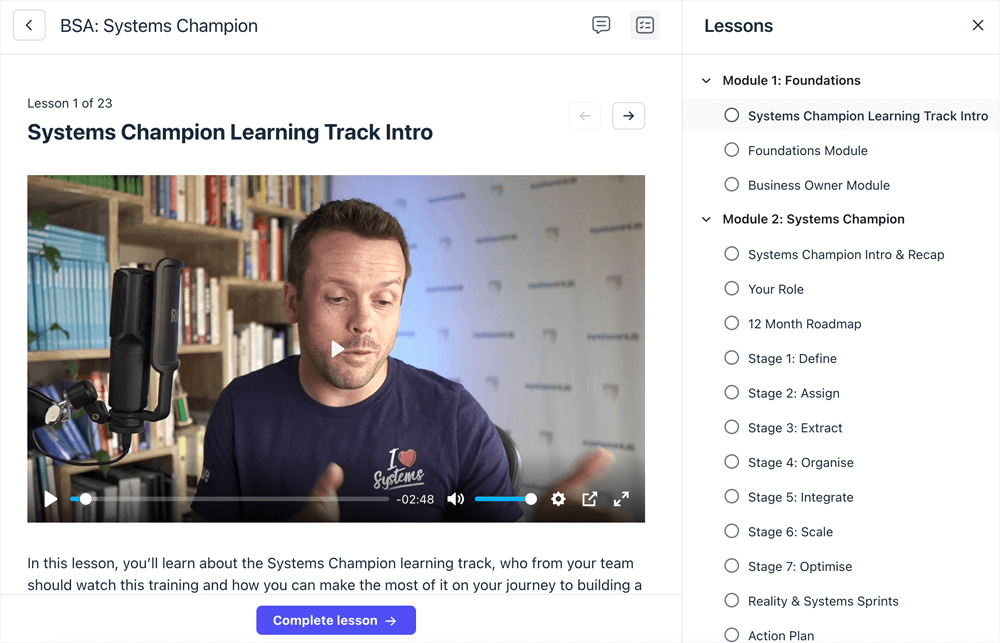 Swipe our copy-and-paste process for onboarding new and existing staff into what we like to call a "systems culture."
Putting your team members through this is a surefire way to get them on board with your new systems, and ensuring they follow them.
Empowering your team to improve and adapt the systems.
While helping your business finally grow without you constantly being in the trenches.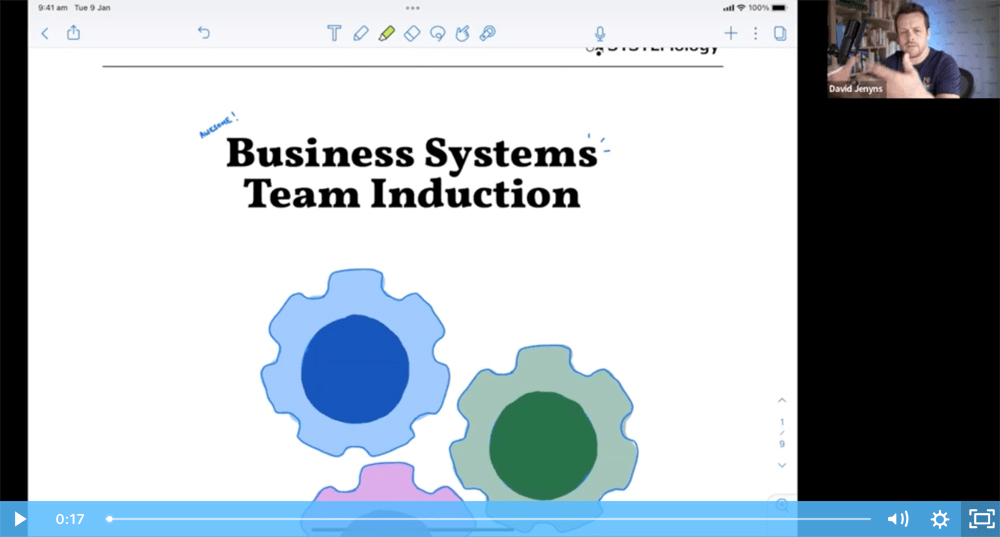 SYSTEMology Implementation Roadmap
You'll get a condensed, actionable version of the same roadmap we use with our 1:1 clients to help you stay on track.
Think of this as your personal checklist to cross off as you move through the training — all you have to do is stick to this roadmap, implement consistently, and you will see results.
Yes, it's that simple!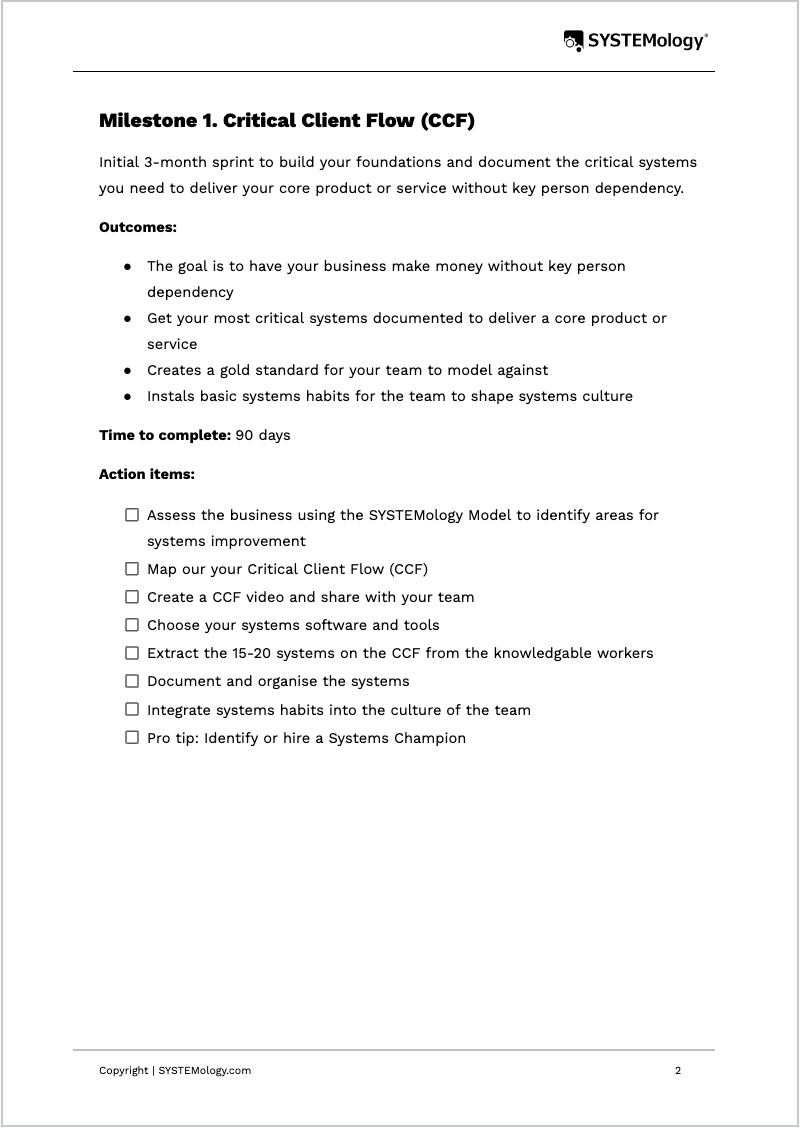 Simple Systems Blueprint Course
With the Systems Blueprint, you also get to watch over the shoulder as I identify and critique critical systems for multiple clients across various industries.
You'll discover:
A behind-the-scenes breakdown of how we helped a client finally get his team to adopt his systems, allowing him to finally focus on the work he loved doing (instead of course-correcting every day)
The one primary aim of every business owner — and why recognizing this is critical for you to claw your way out of being the bottleneck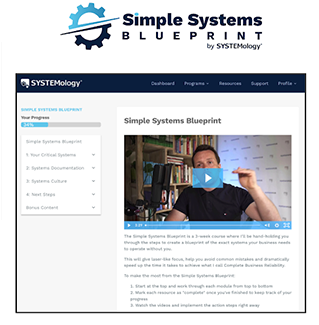 This is the perfect training for your team to start thinking in systems and implement on your behalf.
You'll get:
A step-by-step process for creating time-saving systems, deciding what to systemize first, and how to delegate key roles — skip the guesswork and jump straight into more efficient team members and the space to grow.
In-depth, real world examples of systems done right, so you feel confident knowing you're following what's been proven to work.
Specific techniques to get 'buy-in' from resistant team members so they not only want to follow your systems but actively improve them, too, so you're not always the one moving the process along.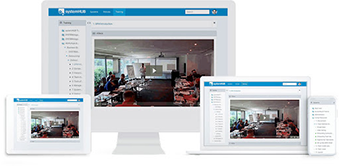 Private Systems Community
You also get access to our private community platform, where you can enjoy:
Unlimited Q&A support from me and the rest of the SYSTEMology® team for anything from new systems to the candidates you're considering for your Systems Champion role!
Discussion with people ranging from pro systems thinkers to those just starting out – pick their brains, get useful tips, and build partnerships
Exclusive resources and trainings to help you stay current on what's working in the constantly shifting modern workplace, and how to adjust your systems accordingly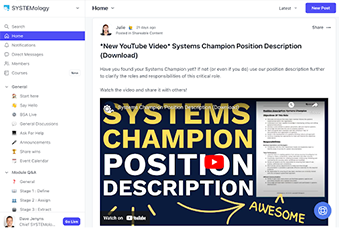 Don't take our word for it…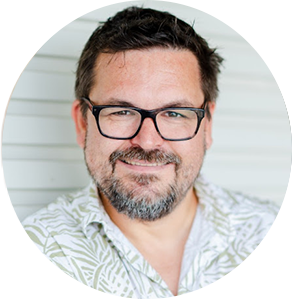 "You start to wonder how you ever managed to run a business without it."
"The support is phenomenal, the systemHub platform and the Business Systems Accelerator is phenomenal, and you start to use it, and you start to wonder how you ever managed to run a business without it."

Den Lennie
Filmmakers Business Academy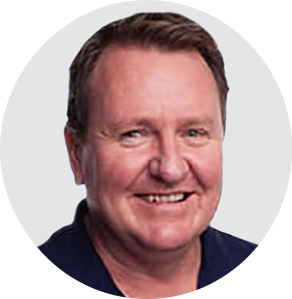 It's time you had a business built around what you want (just like Gary!)
"It's saved my sanity and maybe my marriage and family too!"

Gary McMahon
Ecosystem Solutions

"Snagged the most incredible Systems Champion"
Alison Rogers
Vocal Manoeuvres
On Top Of All That, We're Also Throwing In 4 Bonuses To Make Getting Results Easier:
Bonus #1: Masterclass Recordings
Recorded workshops with some of the best experts in marketing, sales, and operations so you can download their strategies and turn your team into a supercharged growth force (over 6 hours of training).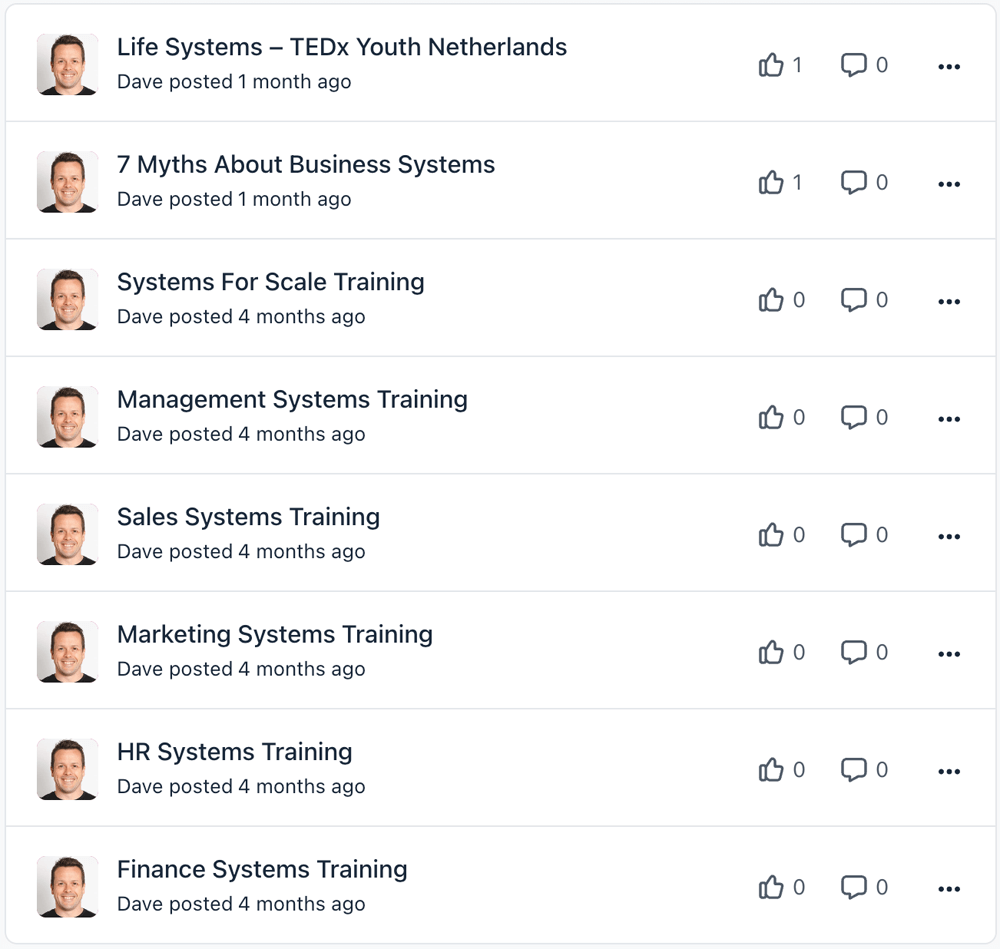 Bonus #2: 1:1 Systems Coaching Call
You'll also get a 1:1 systems coaching call to provide you with valuable insights and feedback on your systems and make sure they won't 'break' (many of our students tell us that this call alone is worth the investment in the program).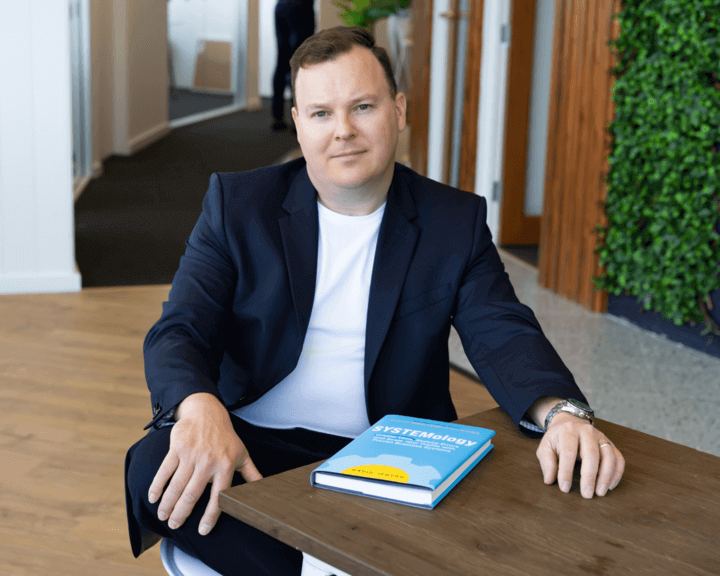 Bonus #3: 6x Additional Live Training Sessions
Once every 2 months for a full year, my team of systems experts and I will lead exclusive systems training sessions where you'll find out how to optimize your existing systems to save more time, hire new A players, and scale while maneuvering around common growing pains.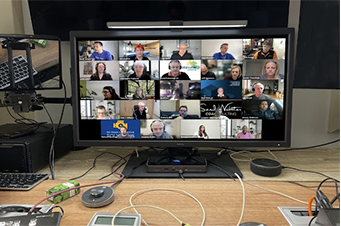 Bonus #4: Business Systems Vault
Never open up a blank screen again, with templated processes used by some of your favorite entrepreneurs:
Jack Daly's sales process to close more leads in less time.
John Jantsch's system for generating referrals and repeat customers is like clockwork.
Mike Rhodes' checklist for turning poorly performing Adwords accounts into money-making machines.
Steven Dixon's Client Satisfaction System that ensures outstanding results for your clients every time — from hand-off to execution to follow-up.
Nathan Chan's system for creating world-class content for Foundr Magazine.
Steven Briginshaw's system for maximizing impact & profit from your monthly financial reports.
And more than 100 others, complete with walkthroughs to help you make them your own!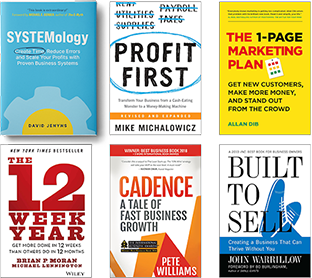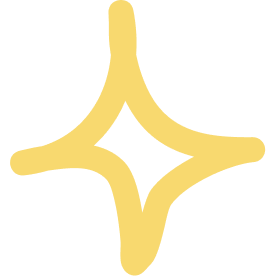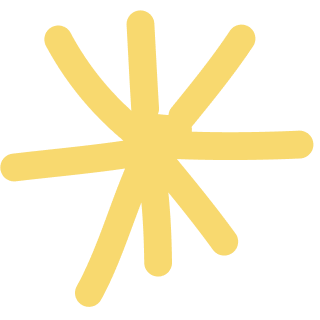 So, what's the investment?
That's right, for only $1,795 per year (which is less than $150 per month), you get access to everything below:
12 months of systemHUB access for up to 40 users
Systems Champion Training
Workbooks, Templates & Resources
SYSTEMology Implementation Roadmap
Simple Systems Blueprint Course
Private community access & Q&A support
BONUS: Masterclass Recordings
BONUS: 1:1 Systems Coaching Call
BONUS: 6x Additional Live Training Sessions
BONUS: Business Systems Vault
To get started, all you have to do is click the button below, enter your regular details on the following page, and you'll be granted instant access to your new systemHUB account and your membership portal.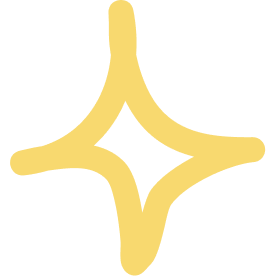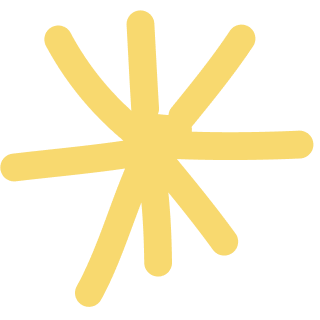 The Way I See It, You've Got Two Choices
You can take advantage of this massive upgrade to base systemHUB, and reap rewards like:
Seeing your business thrive without relying on you or any other key person
Scaling and growing without overwhelming you or your team
And giving you the time, energy, and freedom to choose how you run your business
Or you can continue trying to figure all of this out on your own (and we both know how exhausting that route is).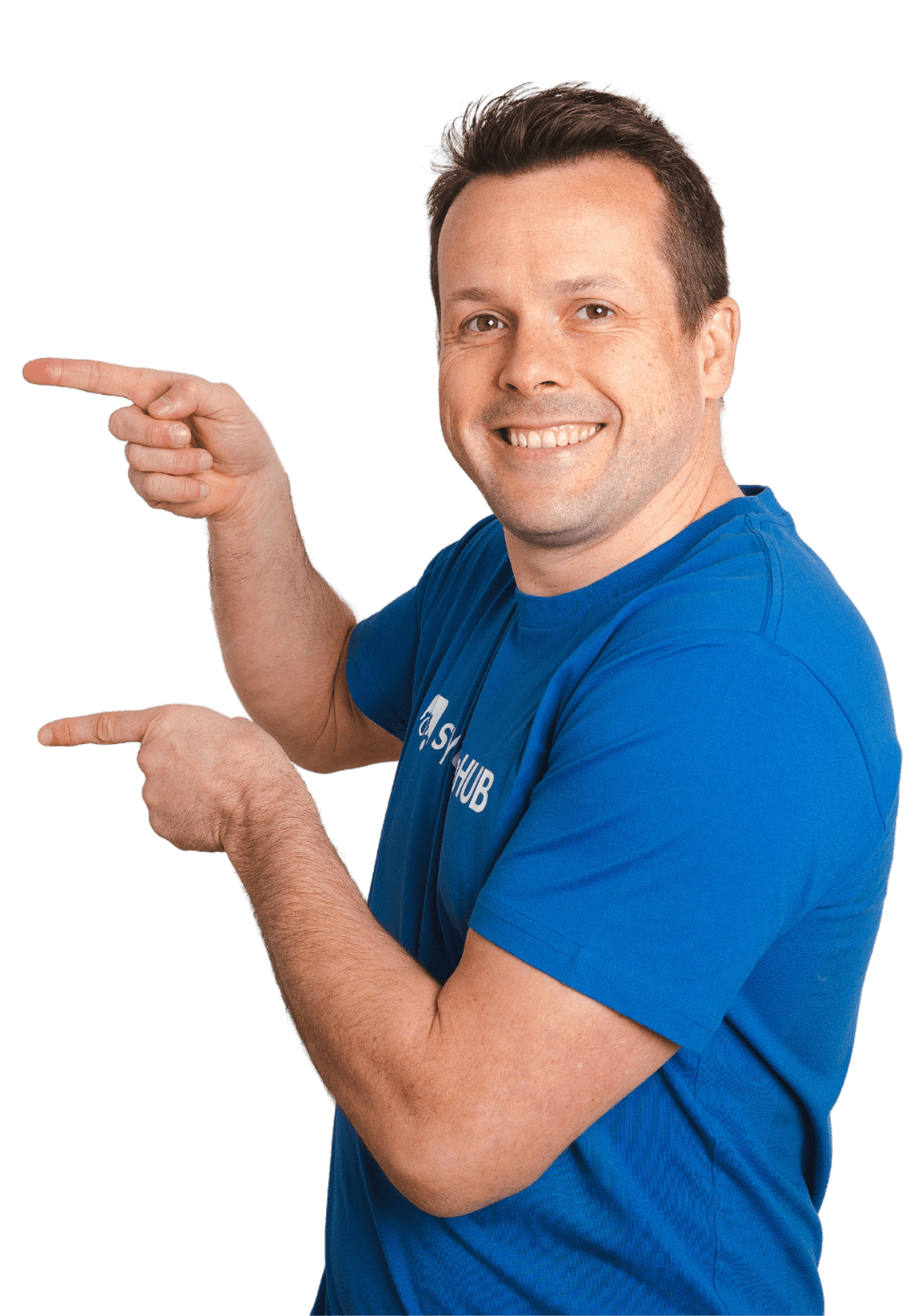 Frequently Asked Questions