Today's Guest, Cameron Herold
Cameron Herold is a business guru known for his extensive experience in scaling companies, driving revenue, and enhancing company culture. He's worked with industry giants and startups alike, helping them grow and succeed. Cameron is the founder of COO Alliance, an organization dedicated to developing the skills of second-in-command leaders.
Interview Takeaways:

1. The Power of Systems Thinking
Cameron emphasizes that all business problems are essentially systems problems. To succeed in business, it's crucial to adopt a systems mindset.
2. The Decision Filter
Cameron introduces the concept of a "Decision Filter," a worksheet designed to evaluate potential systems and processes. This filter helps in prioritizing which systems to implement based on factors like effort, expected results, and return on investment.
3. CEO as Chief Energizing Officer
Cameron advocates for CEOs to adopt the role of Chief Energizing Officer. Their job is to raise energy, enthusiasm, and excitement within their teams. One simple way to achieve this is by celebrating, praising, or thanking team members for completing projects or hitting goals.
4. Creating a No-Blame Environment
To foster a culture of continuous improvement, Cameron suggests creating a no-blame environment. Encourage team members to identify problems without fear of blame, which allows for smoother problem-solving and innovation.
5. Invest in Your Leaders
Cameron highlights the importance of investing in leadership skills. He offers an online course called "Invest in Your Leaders," which covers essential leadership skills. These skills are invaluable for managing people, running effective meetings, conducting job interviews, and more.
6. Growing People Skills
Cameron emphasizes that as leaders, it's crucial to grow the skills of your managers and leaders. When leaders are equipped with the right skills, they can lead their teams more effectively and drive company growth.
7. Implementing Systems Across Departments
Cameron suggests that systems and processes can be implemented across all departments. Whether it's in finance, HR, marketing, or customer service, the same core leadership skills and systems can be applied universally.
8. Systems Mindset for Leaders
While not explicitly covered in the podcast, it's implied that leaders should also develop a systems mindset. This involves noticing inefficiencies, seeking optimization, and driving continuous improvement without becoming overly bureaucratic.
Thank you for listening!
Thanks for joining us for this episode. Do you have any questions or feedback you'd like to share? We'd love to hear it! Let us know in the comments section below.
If you enjoy listening to this podcast, please share it on Facebook and leave an honest review on iTunes. We'd love to know what you think.
Remember – the next system we share could be just the one you been looking for, so subscribe on iTunes so you can get the latest episodes as soon as they're published.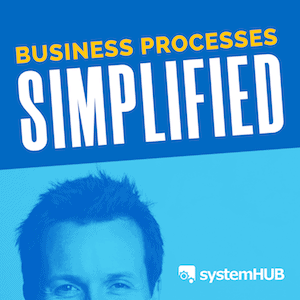 Business Processes Simplified
We interview industry experts and have them share their best small business systems and processes. This is the quickest, easiest and most efficient way to build a systems centered business.