Sales are crucial to business success—we all know that. But what's the secret to sales success? You need to create a sales playbook with clearly defined steps that get your sales team all following a winning formula. So where do you get started? Follow the sales master trainer, Jack Daly using the system below.
Today's Guest
Jack Daly
Jack Daly brings 30 plus years of field-proven experience from a starting base with CPA firm Arthur Andersen to the CEO level of several national companies. Jack is a proven CEO/Entrepreneur, having built 6 companies into national firms, two of which he has subsequently sold to the Wall Street firms of Solomon Brothers and First Boston.
Amongst a career of highlights, here are a couple of noteworthy examples:
In 1985, Jack relocated to California from the east coast and started a mortgage company with 3 colleagues. As CEO, Jack lead the company through robust growth in its initial 18 months to 750 employees, 22 offices nationwide, producing $350 million per month in mortgages, and it's first 3 years the company reported profits of $42 million.
In 1998, working as a senior partner in a 5-year-old privately held Enterprise, Jack helped the company to be recognised as Entrepreneur of the Year by Ernst & Young and ranked #10 on the Inc. 500 list of the fastest growing firms nationwide. Two-time Amazon bestselling author of Hyper Sales Growth and Paper Napkin Wisdom. ForbesBooks Author with Hyper Sales Growth and The Sales Playbook for Hyper Sales Growth.
Why Jack Daly?
Vistage UK Overseas Speaker of the Year
TEC Australia Speaker of the Year
BS Accounting, MBA, Captain in the U.S. Army, an accomplished author of books, audio and DVD programs
Led sales forces numbering in the thousands
History of proven growth of client's businesses from individual success stories to international firms
Personal Highlights include:
Jack has been married 47 years to his high school sweetheart.
Jack has now completed fifteen Ironmans in eight countries, on five continents, and made TEAM USA in 2012.
Jack has played golf at over 92 of the Top 100 golf courses in the USA.
To date, Jack, as completed 88 marathons over 49 states in the USA
Jack has bungee jumped the world's first and largest bungee jumps, and shark dived in South Africa.
How to Create an Effective Sales Playbook
Step 1: Define your personal goals and sales goals. Lead by example and have your salespeople do the same.
Step 2: Ensure you have proactive pipeline management.
Step 3: Build a systematic touch system to maintain regular contact with prospsects, customers, clients, and contacts.
Step 4: Focus on building a perception of value.
Step 5: Ensure you adjust your style to match your prospects personality styles.
Step 6: Create you sales success guide – script sales calls, objections, and questions.
Thank you for listening!
Thanks for joining us for this episode. Do you have any questions or feedback you'd like to share? We'd love to hear it! Let us know in the comments section below.
If you enjoy listening to this podcast, please share it on Facebook and leave an honest review on iTunes. We'd love to know what you think.
Remember – the next system we share could be just the one you been looking for, so subscribe on iTunes so you can get the latest episodes as soon as they're published.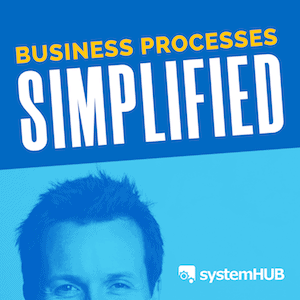 Business Processes Simplified
We interview industry experts and have them share their best small business systems and processes. This is the quickest, easiest and most efficient way to build a systems centered business.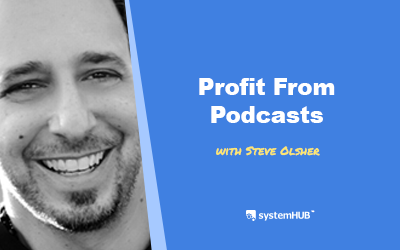 Podcast Episode #97New York Times Bestselling book 'What Is Your WHAT?' author, Steve Olsher, shares his profiting from podcasts system that helps business owners gain and increase their visibility as well as monetize every visibility opportunity that comes their way....