Sales are crucial to business success—we all know that. But what's the secret to sales success? You need to create a sales playbook with clearly defined steps that get your sales team all following a winning formula. So where do you get started? Follow the sales master trainer, Jack Daly using the system below.
Guest's Background:
Jack Daly brings 30 plus years of field-proven experience from a starting base with CPA firm Arthur Andersen to the CEO level of several national companies. Jack is a proven CEO/Entrepreneur, having built 6 companies into national firms, two of which he has subsequently sold to the Wall Street firms of Solomon Brothers and First Boston.
Amongst a career of highlights, here are a couple of noteworthy examples: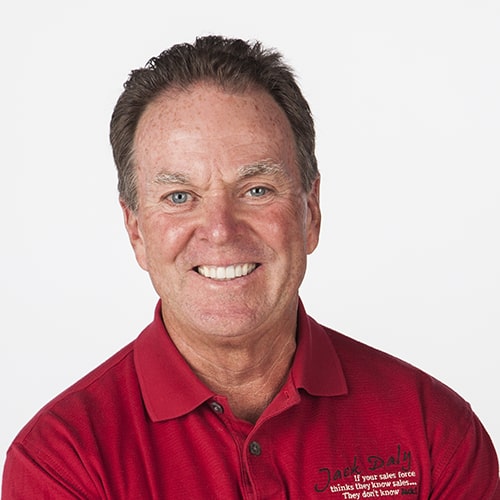 In 1985, Jack relocated to California from the east coast and started a mortgage company with 3 colleagues. As CEO, Jack lead the company through robust growth in its initial 18 months to 750 employees, 22 offices nationwide, producing $350 million per month in mortgages, and it's first 3 years the company reported profits of $42 million.
In 1998, working as a senior partner in a 5-year-old privately held Enterprise, Jack helped the company to be recognised as Entrepreneur of the Year by Ernst & Young and ranked #10 on the Inc. 500 list of the fastest growing firms nationwide. Two-time Amazon bestselling author of Hyper Sales Growth and Paper Napkin Wisdom. ForbesBooks Author with Hyper Sales Growth and The Sales Playbook for Hyper Sales Growth.
Why Jack Daly?
Vistage UK Overseas Speaker of the Year
TEC Australia Speaker of the Year
BS Accounting, MBA, Captain in the U.S. Army, an accomplished author of books, audio and DVD programs
Led sales forces numbering in the thousands
History of proven growth of client's businesses from individual success stories to international firms
Personal Highlights include:
Jack has been married 47 years to his high school sweetheart.
Jack has now completed fifteen Ironmans in eight countries, on five continents, and made TEAM USA in 2012.
Jack has played golf at over 92 of the Top 100 golf courses in the USA.
To date, Jack, as completed 88 marathons over 49 states in the USA
Jack has bungee jumped the world's first and largest bungee jumps, and shark dived in South Africa.
How to Create an Effective Sales Playbook
Step 1: Define your personal goals and sales goals. Lead by example and have your salespeople do the same.
Clearly define how much business do you want to do this year.

Break it into 4 pieces: write your goals; write a plan on how you are going to achieve these goals (specific identification of activities you need to do); have a system of measurement; have a system of accountability.

See an example of how Jack does it – click here.
Step 2: Ensure you have proactive pipeline management.
Every month, the sales manager reviews and inspects every salesperson's list of prospects, customers and clients, and the interactions with them.
Note! A sales manager can manage up to 12 salespeople for optimal results.

Exceptional companies make these reviews each week.
Step 3: Build a systematic touch system to maintain regular contact with prospects, customers, clients, and contacts.
Identify 4 databases: prospects, customers, clients and contacts (people you meet daily that don't fit in the other 3 categories). 

Vary methods of touching – face-to-face, calls, emails, social media. Remember, it takes nine touches before your prospect knows you exist.

Suggestions: Create a structured process with points of contacts, timeframes, and templates that you can pass to your execution team. That will help keep your team accountable.
Step 4: Focus on building a perception of value.
Create enough perception of value and enough trust, the price objection tends to diminish, if not entirely disappear.
Step 5: Ensure you adjust your style to match your prospects personality styles.
2 basic questions: 

Is the person in front of you more or less assertive? How does this person make his decisions – based on logic or based on emotion? 

Suggestion: 

There are 4 basic personality styles: driver, expressive, analytical and amiable. To further your knowledge ensure you and your sales team read, "The Platinum Rule: Discover the Four Basic Business Personalities and How They Can Lead You to Success" by Dr. Tony Alessandra

Once you identify a person's identity, put that in your CMS (contact management system) right next to his name. Adjust your communication to suit the prospect.
Step 6. Create your sales success guide – script sales calls, objections and questions.
The fact is, there's hardly anything that goes on in a sales call that you couldn't anticipate – so be prepared and prepare your sales team.

Build and practice your answers to anything you hear. Include these in your playbook.
Thank you for listening!
Remember the next system we release could be the one you been looking for, so
subscribe to the show on iTunes
so you can get the latest episodes as soon as they're published.