In this interview, you will discover Michael's system for systemising business as explained in his newest book "Beyond The E-Myth (get it on Amazon here).
Please Note: The audio from "Part 1" contains some occasional rustling due to the microphone. While we have done our best to clean this up but it's not perfect! We appreciate your understanding and hope you're able to focus in on the content which timeless.
Guest's Background:
The mega-bestselling author of 29 "E-Myth" books, in The New York Times™, Business Week, Inc. Magazine, FORTUNE, Forbes, and Wired. The Wall Street Journal named The E-Myth the #1 business book of all time (November 1995) having sold millions of copies and has now been applied in 145 countries, in 29 languages and is taught in 118 universities.
Grab Michael's system: E-Myth Process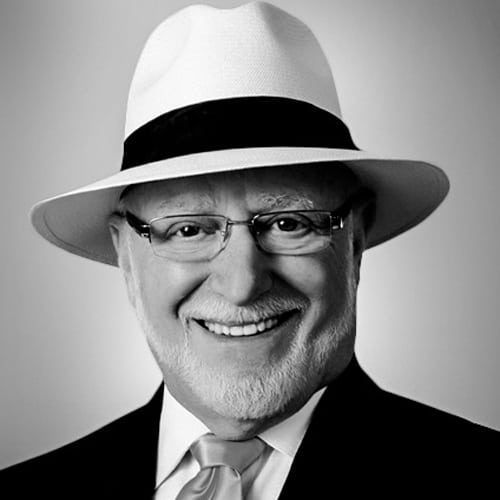 Step 1: Get the right Dream.
The Dream is what you're determined to create – the Great Result the company will produce.

Think of how your Great Result is going to disrupt the market and the competitors.
The Dream has nothing to do with the business you have, at least not at this stage. Put aside for the moment what you do right now.

Be pragmatic – bring it down to something that can be done.

Dream big, think small, act even smaller.

Get a blank piece of paper and a beginner's mind.

Ask yourself these questions:

I have a dream… what is it?
If I had a dream, what would it be?
Who's important to me, and why are they important?
What's standing in my way of getting what I want in life, and how is it standing in my way?

Write down your answers to find out what inspires you – formulate a picture in your mind.
Step 2: Create a Business Vision.
The Vision is the form the business must take in order to accomplish the dream.
Develop a Two-Co strategy/mindset.

Two different minds Old-Co and New-Co: a Beginner's Mind and a Winner's Mind.

The New-Co will organise the Old-Co to work better than it is.
The Old-Co will invent the New-Co to replace him.

Build a business model that will enable you to accomplish the dream.
Create a system that can be handled off and used by others.
Step 3: The Purpose.
The purpose is about addressing your consumers or clients, and the results you're going to produce for them.
This is the storyteller role of the business owner to relate the Dream to the clients' needs. When your objective meets your clients' objective.
To be truly successful, the results must be scalable. Think big and put in your energy to move this forward.
Step 4: The Mission.
The mission is the role of the leader to convert the dream, the vision and the purpose into a reality, and to develop a system to do this.
The mission is made up of the systems essential to growing the business.
Step 5: The Job.
The objective of this step is to develop your business so it works and is scalable, replicable, and so that you, as the business owner, are not the centre of it.

The Job is your product or service and must go beyond the individual who is delivering it.
You must be able to replicate what you do in order to scale.

Without scalability and without a system, you have a job and not a business, as you cannot sell it.

You have to to work On the Job to turn it into a client fulfilment system.

Work on your company to make it competitive in the marketplace of companies, and ultimately to win in that marketplace.
Document the process of delivering your product – your client fulfilment system.

The client fulfilment system includes everything that is required to produce the result you have promised to deliver to your client.

Build the system answering these questions:

What am I here to produce?
What am I here to deliver?
What am I here to promise?

Handle over the documented process to other people who will deliver your product in the way you want it delivered.
Never stop working on this process to continuously improve it.
Step 6: The Practice.
The Practice is about creating systems for client acquisition:

Lead generation system (attracting potential customers)
Lead conversion system (converting people you attract into paying customers)

Build your Franchise Prototype, made up of:

Your lead generation system.
Your lead conversion system.
Your client fulfilment system.
Design, build, test and launch these systems.

They must be turn-key, definable, scalable and replicable.

Ensure you have enough strategies under Lead Generation that can be turned on and of as needed.
Think of scalable Lead Generation and Lead Conversion methods which will help you 10x, 100x or 1000x the business.

Automate and document these systems.

At this stage, you own transferable set of systems to handle over to your team to follow and produce the predictable results you have designed to deliver to clients.
Create 7 effective practice replicates (centres, deliverables) of this Franchise Prototype.

Example: These could be for different locations, retails, outlets, etc. They are a replica of the turn-key you invented, and as a practice has a single capacity to serve X number of customers in Y number of hours, to produce Z amount of revenue and X amount of profit. Find a single way to do that and not many ways of doing it.
Step 7: The Business.
The business development process consists of 3 parts done consistently:

Innovation
Quantification
Orchestration

Create a turn-key management system which allows you to operate a turn-key business.
The important components which drive the management system are:

What do you need to know?
When do you need to know it?
Why do you need to know it?
What importance does that have?

Ask these questions for each of the practices created in Step 6: The Practice.

Turn the information you produce by asking the above questions into actions, which will lead to improvements and innovations in the business, producing better results.
If the results you are getting don't improve, it is not innovation, but just change.

The driver in every business is an improvement, not change.
Step 8: The Enterprise.
Replicate The Business to create a valuable turn-key Enterprise.

Example: If The Business is a district, the Enterprise is a region. You built a District in Step 7 and replicated it successfully to create a Region, which is now scalable to create other regions.

The Enterprise will depend on the turn-key systems, and not dependent on any person.
Using the systems, the Enterprise can grow at will.
Thank you for listening!
Remember the next system we release could be the one you been looking for, so
subscribe to the show on iTunes
so you can get the latest episodes as soon as they're published.