Building a high-performing remote team doesn't just happen by accident – you need a system for it. The good news is, Adam Houlahan is happy to share his… follow this step by step process and turn your team into a high-performing powerhouse.
Today's Guest, Adam Houlahan
Adam Houlahan is an International Keynote Speaker specialising in Social Media for business, and CEO of the highly successful boutique agency, Web Traffic That Works. He lives in Australia's famous tourist destination the Gold Coast Queensland and is considered to be one of Australia's leading experts in harnessing the power of Linkedin for business. Over 11,200 people globally have sought his skill and insights to leverage the power of LinkedIn for their businesses.
Adam is also an Australian Brand Ambassador for Microsoft. He consults on Social Media to private clients in Australia, New Zealand, North America, The Middle East, and Singapore. His work as CEO and owner of 6 successful companies has given him the hands-on experience to understand business from the inside.
Adam believes real and meaningful change comes through the world's entrepreneurs. His purpose is to provide their businesses with powerful tools to grow and accelerate their global footprint. And that together we make a huge impact!
Through his Lifetime Partnership with the Global Giving Initiative B1G1 www.B1G1.com he is well on track to positively impact the lives of more than 1 million people in need.
Tips on Building a High-Performing Remote Team
Tip 1: Identify, connect and measure top talent.
Tip 2: Productise your virtual team's services.
Tip 3: Use modern communication tools.
Thank you for listening!
Thanks for joining us for this episode. Do you have any questions or feedback you'd like to share? We'd love to hear it! Let us know in the comments section below.
If you enjoy listening to this podcast, please share it on Facebook and leave an honest review on iTunes. We'd love to know what you think.
Remember – the next system we share could be just the one you been looking for, so subscribe on iTunes so you can get the latest episodes as soon as they're published.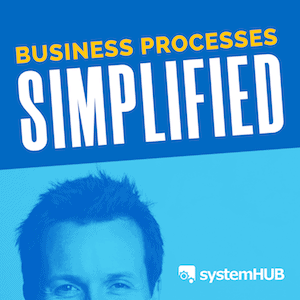 Business Processes Simplified
We interview industry experts and have them share their best small business systems and processes. This is the quickest, easiest and most efficient way to build a systems centered business.