Barry's system aims to teach business owners a step-by-step process for implementing new systems. Existing systems that aren't efficiently implemented tend to be duplicated. It involves searching for possible existing system from the entire business processes and also attaching these systems to reoccurring tasks.
Today's Guest
Barry Magliarditi
Barry Magliarditi is the founder and director of The Game Changers. He has been recognised for his thought leadership by the 30 under 30, 2015 Telstra Business awards and was chosen as Australian Coach of the Year for the 2016 Invia Innovation and Excellence in Business Coaching in Australia.
A master of his craft and described as "The Magician," Barry is always entertaining, heart based and life changing while upholding a deep respect for every individual and their story.
In 2003, as a true craftsman, Barry started his first business aged 18, in his garage serving as a Kitchen and Renovation Company. The business scaled quickly and soon Barry was working from his own factory with 15 staff with a multi-million dollar turnover.
Barry was experiencing what he knew at the time to be "success." He diligently managed his cash flow, maximising profits, minimising expenses and maintaining clear KPI's for his business and his team.
However, like many successful business owners, Barry was also investing a lot of emotion and time into the business and quickly become exhausted. When his relationship with his partner and children began to suffer he switched gears and saw the business begin dissolve.
Barry always knew in his heart that there had to be a way to create true balance in life. To create what he wanted and was in his dreams; a profitable scalable business that provided sustainable growth for the lifestyle of the family he loved. This kickstarted Barry's journey of self education and personal development.
Barry learned quickly that the key was in the "inner game". By working on his "inner game," Barry was able to create real, tangible and sustainable results in his "outer game".
This was the catalyst that sparked the creation of The Game Changers Business. Since starting, Barry has assisted business owners to create the same tangible results in their businesses ( averaging 3-4X growth in revenue and profits) while watching their personal lives expand grow too.
Barry is a Peak Performance Coach based in Perth, Australia and is here to facilitate sustainable, heart-based change that affects all aspects of life in a positive way.
The System For Implementing New Systems
Step 1: Check if the system already exists.
Step 2: Test run the system.
Step 3: Store and update the process in the systems registry.
Step 4: Link the system documentation into your reoccurring task.
Thank you for listening!
Thanks for joining us for this episode. Do you have any questions or feedback you'd like to share? We'd love to hear it! Let us know in the comments section below.
If you enjoy listening to this podcast, please share it on Facebook and leave an honest review on iTunes. We'd love to know what you think.
Remember – the next system we share could be just the one you been looking for, so subscribe on iTunes so you can get the latest episodes as soon as they're published.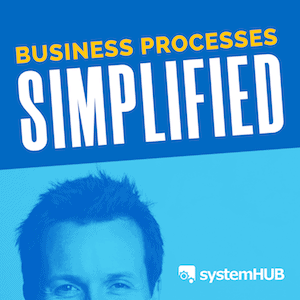 Business Processes Simplified
We interview industry experts and have them share their best small business systems and processes. This is the quickest, easiest and most efficient way to build a systems centered business.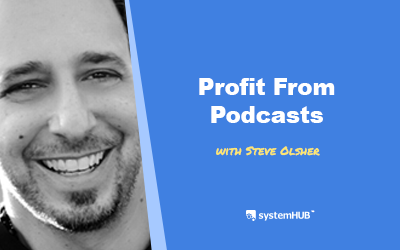 Podcast Episode #97New York Times Bestselling book 'What Is Your WHAT?' author, Steve Olsher, shares his profiting from podcasts system that helps business owners gain and increase their visibility as well as monetize every visibility opportunity that comes their way....