Are you hosting free workshops that get a lot of interest and yet very few people turn up? Hosting and managing an event is a lot of work and all this hard work can go to waste when no one turns up on the day!
With a change in approach and communication sequences, you can increase ""bums-on-seats"" at your next event.
Brent shares a proven system that has helped increased the number of people showing up at their events.
Event reminder is a really simple one. A lot of the clients I work with do intro seminars. Those intro seminars are typically three hour events in the evening. The issue with these events is the majority of people who book into these intro events, because they haven't put skin into the game, because they haven't paid to go to these events, don't turn up.
They get to the end of the day, they''ve had a long day, this, they think, too bad, I''m hungry, I''m tired. I''ve got no more to give. I''m going to go home and spend time with my family rather than going to this event. Realistically, I''m just going to get pitched there.
What we do for these guys is simple. After they register, we send the email confirmation with the details of the booking. One to two weeks out from the event we send them some new information.So we hold things back from the sales letter and use it as an opportunity to announce more information that is going to be presented at the event. This is something that is going to be enticing to get them along there.
About three days out from the event, we start to build anticipation again, reminding them that they''ve booked into this thing. That typically involves reiterating some of the messages that were in the original sales letter. Again, one day out, we reiterate, much smaller, much punchier, much more to the point.
Then on event day, they get an email, and an SMS. Today I got five SMSs this morning as I was walking in here from on of the campaigns that was being run there. The show up rate from this promotion increased from seventeen at its low point, thirty-three at a typical point, to about fifty-five percent of people who were showing up.
Fifty-five percent of people, there is a little bit of room to move there. We were able to add a couple of additional things into there that increased the show up rating further. It's currently sitting at about sixty-eight percent.
We still send the event day email the morning of the event.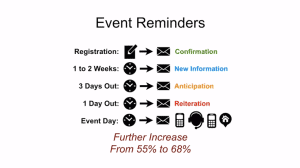 We also SMS them to say, hey, here are the event details. We then give them a call. We've got an email that goes to one of our staff members, or one of the staff members of that particular client. That staff member gives the person a call. They get a sales script that they follow. It basically goes along the lines of: Good day John. It's Brent here from xyz. I see that you're booked in for the John Smith event. I just wanted to make sure you had everything you needed from us and that you'll be there tonight.
People typically say, yes, I'll be there, some of them are liars. Great, fantastic. Hey, I've got a Google maps link here. I'm not sure if you're going to be navigating by phone. But if you want, I can SMS it to you so you've got the address in your phone there. It's just another excuse to SMS them.
A lot of people say no, don't worry about it. A lot of people say no, just send me the address. At that point we send them an SMS, sometimes with that link that points to the event, and sometimes not. So there is a level of reciprocation there. That was able to further increase the conversion rate we were getting from people who were booked to people who were actually showing up.
Get more people showing up next time you run your free workshop by implementing some simple changes to your event management process.
Start with your
free systemHUB trial – here
.